Patients
Loss of vision and blindness are still common, particularly as we age. Around 22 million people worldwide and more than 450,000 people in Australia are blind or vision impaired (Vision 2020 factsheet). Unfortunately, the early symptoms of eye disease can be missed and go untreated. Between 75 and 80 per cent of vision loss reported in Australia is preventable or treatable (Centre for Eye Research Australia and Vision 2020 Australia 2016; Access Economics Pty Ltd 2010).
Save Sight Registries do two key things for people with eye disease.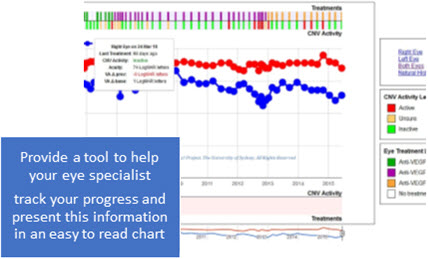 Ask your eye specialist to show you YOUR chart if they are part of the project!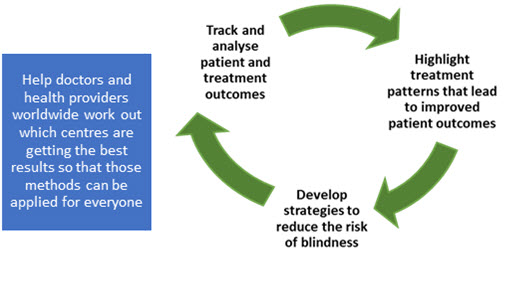 Save Sight Registries do this by allowing your eye specialist to enter information about your eyes into a web-based form that encrypts and stores the information securely in our database.
This level of information is restricted to them and their practice (and of course support staff at Save Sight Registries).
Your eye specialist is then able to get reports based on the information they enter, which allows them to see if their patients are getting the same results as the best centres in the world. They can see if there are any areas in which they can improve their patients' outcomes and what they can do to achieve that.
Save Sight Registry authorised researchers can also conduct analyses of the entire database ­to see what treatments are prescribed and working for patients, what side-effects (if any) have been reported and what patterns are emerging for patient progress and outcomes.
This information can then be used to lobby governments and health providers for treatments which lead to the best outcomes for patients and help people with eye disease to keep the vision they have for as long as possible.
Data collected by the registry cannot be identified so neither patients nor doctors will be identified by the Project's analyses.
Ask your eye specialist if they are participating in Save Sight Registries!
Help is available
If you think you have a problem with your eyes or your vision you can talk to your doctor or visit an optometrist. Optometrists are not medical doctors but they are eye health professionals who have an in-depth understanding of vision and how eyes work. They are the people who use special instruments and eye charts to test how well you can see and look for any problems with your eyes or vision. They can write you a script for spectacles ("glasses") or contact lenses, if needed, to help you see better.
It is recommended that people have their eyes checked by an optometrist every two years. In Australia, this check-up is subsidised by the Australian Government under Medicare. Many optometrists will bulk-bill these appointments and tests.
If your doctor or optometrist thinks your eye or visual condition needs to be checked further they might refer you to an ophthalmologist. An ophthalmologist is a medical doctor who has completed specialist training in the diagnosis and management of vision disorders and eye disease. Some eye specialists are involved also in research into the causes of eye disease and in clinical trials with patients to develop new treatments.
If you have a sudden change to your vision or problem with your eyes you should see a doctor or optometrist immediately.
See also More about eye health
Funding
Save Sight Registries receives funding and support from a range of sources in the form of research and educational grants and private donations. All funding is received on a strictly non-binding basis. This means that any support we receive from philanthropic sources or from private-sector organisations, including drug companies, cannot influence what we do or the reports we write.
We value your support
As a not-for-profit organisation the work of Save Sight Registries is in large part dependent on the generosity of individuals as well as public and private sector organisations. We welcome your support in our shared fight against blindness.