Clinicians
Save Sight Registries are an international initiative developed in Australia in 2009 under the Fight Retinal Blindness! project to track long-term treatment effects and improve the management of specific eye diseases.
The Save Sight Registries database is the only one of its kind to hold 10 years of data on ophthalmic treatment outcomes.  In April 2019 this equated to over 350,000 visits for around 16000 patients and 18000 eyes.
Save Sight Registries
provide a secure, web-based platform for clinicians to capture high-quality clinical data on patient treatment outcomes
enable current and emerging therapies to be evaluated for clinical efficacy, cost-effectiveness and safety
allow for the investigation of long-term "real world" treatment outcomes for people in the general population
address lack of post-marketing observational studies.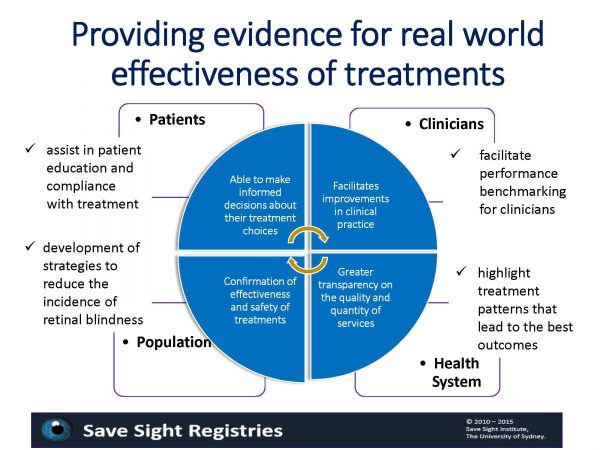 ICHOM
Save Sight Registries are endorsed by the International Consortium for Health Outcomes Measurement (ICHOM) as a preferred tool for the collection of the minimum data set for Macular Degeneration. Each eye which meets standard baseline criteria (informed by ICHOM and the Save Sight Registries Steering Committee) is entered into a registry "Audit" and tracked at each visit by the treating clinician.
Patient Progress Tracked Graphically
Reports charting patient progress (individual eyes treated), which are generated at every visit, enable clinicians to track outcomes of individual eyes. This provides clinicians also with an interactive and educative tool for patients.
Neovascular Age Macular Degeneration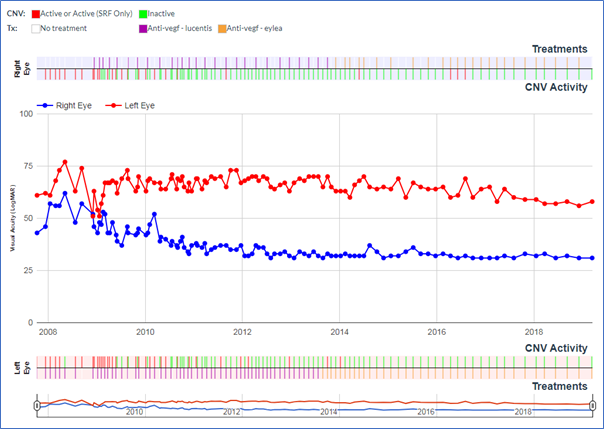 This graph (nAMD) summarises a patient's treatment journey for their right eye (top bar) and visual acuity (y-axis) over eight years (x-axis).
Diabetic Macular Edema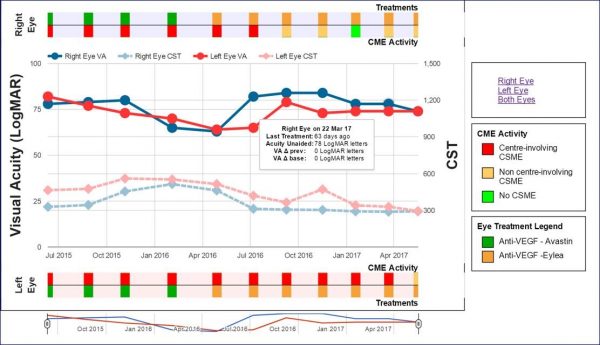 The figure shows the course of a patient who was being treated for DME in both eyes with bevacizumab. When visual acuity declined in association with increasing macular thickness, the patient was switched to another VEGF inhibitor, aflibercept. This resulted in improved vision and reduced macular oedema although the patient still required 2 monthly injections
Keratoconus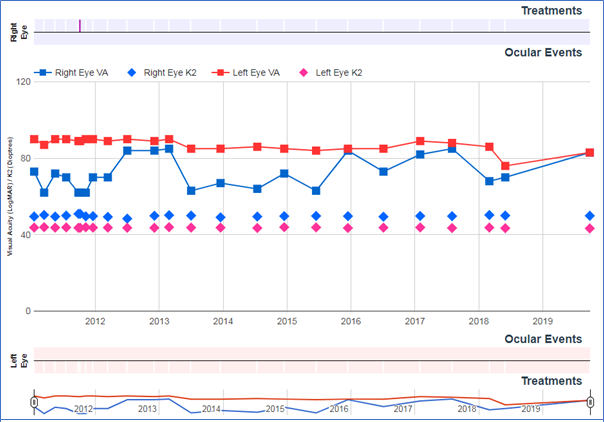 This graph (Keratoconus) summarises a patient's treatment journey for their right eye (top bar) and visual outcomes (y-axis) over nearly two years (x-axis).
Glaucoma
This graph is found in the Glaucoma audit and shows Visual field (MD), IOP and RNFLT over time. Hovering over each point will provide additional information. Above and below the graph there are displays for treatments and procedures for both eyes. Hovering over these points will again display further information. The legends for the graph will automatically display and populate at the top of the graph.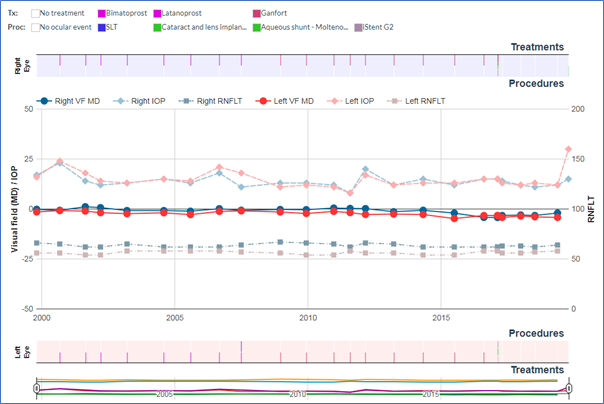 Statistical Functionality
SSR store data in a sophisticated database which facilitates advanced statistical analysis.
Reports available to clinicians in CSV or PDF format include:
number of patients; number of patient visits; number of new patients
number and type of treatments administered
mean LogMAR Visual Acuity (VA)
lesion-specific information such as lesion type, activity and size.
More information – link to Research Outputs
RANZCO approved Continuing Professional Development (CPD) activity



The Fight Retinal Blindness! Project is a RANZCO approved CPD activity for clinicians in Australia and New Zealand.
Participating Fellows are able to claim up to 30 points in clinical expertise level 2, by:
auditing at least 85% of patients treated in their practice for 1 year
generating a Doctor's Activity Report
presenting their data to colleagues and
reflecting on the results.